Payments
How secure is your payment?
Your privacy and security is our highest priority. We use Shopify Payments which is an extremely secure and highly encrypted system designed to protect customers and also hold merchants accountable.
What payment types do you offer?
We accept the good old-fashioned methods of payment, such as credit cards (Visa/Mastercard/American Express) as well as debit cards that can be used for online transactions. If you're a bit more tech-savvy, we offer Shopify Payment, Paypal, GooglePay, ApplePay, and AmazonPay!
How can I use a discount code?
Simply head to checkout, and on the first page of the checkout there will be a box for you to enter your discount code in - make sure to click "Apply". This is offered before the payment page, so you can be completely aware of how much you can save.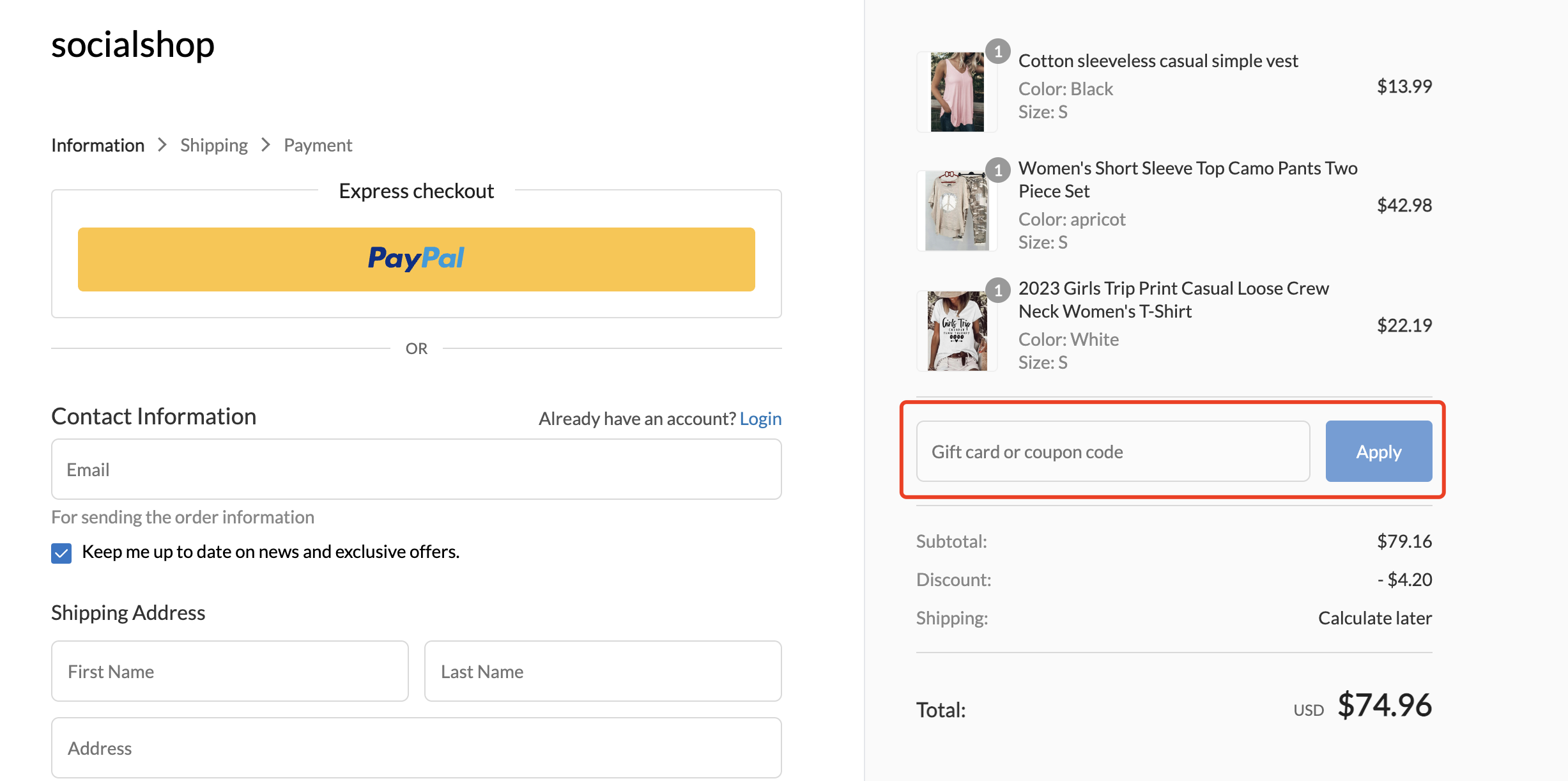 I forgot to use my discount code!
Have you made your purchase, and as the payment was loading you realized you didn't add your discount? No worries, that opportunity hasn't slipped away! Simply email our lovely SocialShop team at support@social.shop and they will be happy to add this in for you.
Can I use several discount codes on one order?
Only one discount code can be used per order. If you are purchasing multiple bundles and discounts, we suggest placing separate orders. Please check email offers for which items the codes are applicable for.
What currency is the store in?
All pricing is listed in US dollars, but you can choose the currency yourself on the top right corner.
Why can't I make the payment?
If you are using Paypal as a guest payment, please double check that you have entered the correct shipping or billing address. If you enter incorrect information, such as a wrong zip code, Paypal will force you back to the checkout page and notify you of the error.
If you pay by credit/debit card, please double check that you have entered the correct card number. If you enter the wrong card number, the website will force you back to the checkout page and inform you of the wrong information or suggest you to use a different card.
Also, to reduce the risk of your card information being stolen, some debit/credit card merchants will not approve payments if your billing address and shipping address are different.