Sep 07,2023 by socialshop
Unleash Your Halloween Spirit
Halloween is celebrated on the 31st of October every year when no one looks ordinary, the spooktacular holiday. It is that spectacular holiday for which not just the children but people of all ages await as the anticipation of creating or choosing the perfect outfit is an extremely thrilling experience for all. From thinking about the spookiest most creative outfits to turning the thoughts into reality is a journey itself. It's the time of the year when people are seen embracing their inner child and imagination.
While children are seen turning into their favorite superheroes, princesses, and cartoon characters the adults get a chance to relive their childhood keeping all their work and stress aside. You can also often see families and friends groups dressed as different characters from the same movie or TV show every year. It's all about the unique trends that come and go every year! However, Halloween isn't just all about fun and dressing up… it is also the perfect holiday to give the community a sense of unity as everyone is seen cherishing their culture. It also is an occasion that gives every individual to explore their creativity as most people prefer customizing their costumes themselves from the very beginning. Undoubtedly the DIY spirit adds an extra layer of excitement!
In the following article, you'll read all about how this festive occasion is celebrated every year globally, what are the current trends you can go for, how can you add your sense of creativity to your outfit, and much more. So, if you're all geared up to have the spookiest outfit be it of a vampire, ghost, superhero, or a witch…. Know it's officially the time to let your spookiness shine.
Let's get started!
Halloween Costume Trends
We all can see how fast trends evolve depending on the trending movies or shows, and people nowadays prefer comfort over uneasiness any day. Thus, while you look for or think of creating your outfit make sure it matches your comfort zone. Let's take a look at some of the trendiest outfits you can go for this Halloween whilst staying in your comfort zone:
1. Superheroes/ Superheroines
Superhero outfits being a trend isn't a debatable topic at all. The popularity of superhero movies and series has been constantly increasing for a decade be it, Thunder Force, Superman, or Wonder Woman. The plus point is that while it is a timeless choice with form-fitting that everyone looks forward to, you won't have to give up on your comfort zone at all. Get ready, to showcase your love for your favorite superhero this Halloween!
2. Witch Aesthetic
While the witchy vibes went out of trend for a few years, it is now back and is going to be the strongest and most modern comeback in the history of trendy Halloween costumes. Whether you're inspired by movies like 'The Witch' or are addicted to the trending serial 'Chilling Adventures of Sabrina', we suggest you wait no longer, and choose the best flowy dress. Pair up the perfect hat, and practice the makeover your creative sense tells you to go for.
3. All-Time Favorite Horror Icons
Horror icons like dressing up like mummies, Dracula, and Chucky never go out of style. However, if you do not want to dress up like the average costumes of these icons every year you can add a modern touch e.g. styling the outfit with accessories, or using a light breathable material.
4. References
Taking pop culture references to dress up for Halloween is a great idea! Memes have been taking over the social media world for a long time now and recreating viral moments and memes from the internet is an idea not many can think of. Dress up like a popular meme character or recreate a viral trend, and get ready to have the coolest outfit this Halloween!
So, while you choose your costume for Halloween, prioritize your comfort while staying in fashion. Choose the outfit you always wanted to go for and make this occasion the most memorable one!
Witchy Wonders: Embracing the Witch Aesthetic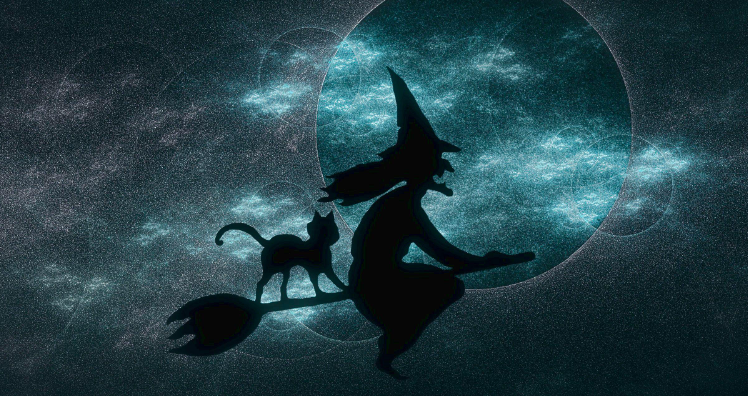 History, culture, and versatility are the three main factors behind why the witch-theme costumes continue you gain popularity even after so many years. In the late 17th century when witch hunts and trials took place in Europe, they left an ever-lasting influence on the people. Till today people opt for the witch aesthetic as it is a source for them to connect with the past. As mythological creatures have always caught the interest of people, they play a significant role in inspiring people.
Talking about the role cultural symbolism has played in the enduring importance of the witch-themed attire, it demonstrated a mix of power, independence, and empowerment, especially for women the witches as they refused to conform to the standards set by the society for different genders.
When we talk about witch-inspired attire, if you want to go for the classic costume a black dress, broomstick, and a pointed black hat will make your entire look. If you can manage to add a cauldron it will elevate your look further! However, to add a modern touch do for fashionable accessories, and trendy clothing this Halloween. Not just this, if there is a witch from a movie, or a TV show e.g. any character from Harry Potter that inspired you, don't forget to try the look!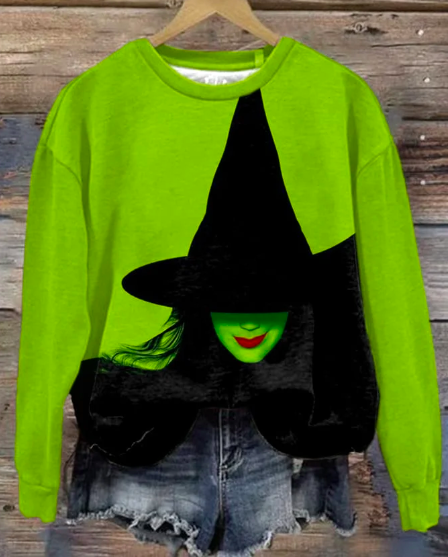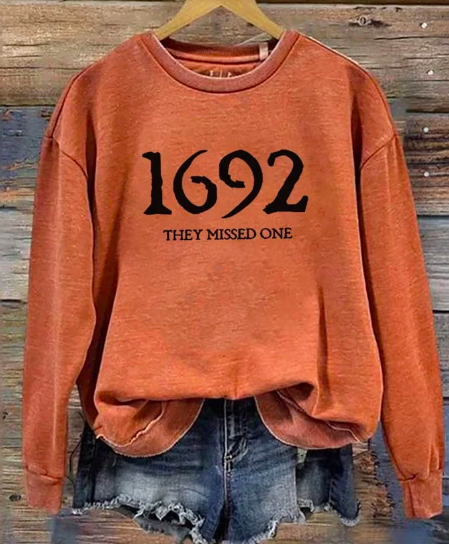 Pumpkin-related costumes have their warmth and they always give people a sense of nostalgia. Imagine pulling on an outfit with the pumpkin theme, how creative would that be? And as not many people can make such an outfit work well, you might be the most uniquely dressed person at the Halloween party. Such costumes are closely related to autumn and also give off a festive vibe which is why not just on Halloween, people opt for choosing the fruit on Thanksgiving as well.
Looking for coziness and comfort in an outfit? Go for the Pumpkin related attire! It's a fact that people of all ages go for such an outfit at least once in their life. From proper photoshoots of newborns to people in their late 60s, you can find the most fun and lighthearted pictures of people wearing pumpkin-related attire on social media for Halloween.
To style outfits, you sometimes have to think out of the box. The same is the case with styling an outfit when you want to incorporate pumpkin elements into it. The easiest most basic way is to choose a classic pumpkin-shaped costume that comes with the green stem hat. It is a round, orange body and is the happiest spooky outfit you could choose to wear this Halloween. However, if you want to look different you could go for an outfit inspired by Tim Burtons in 'The Nightmare Before Christmas'. Ready to be the Pumpkin king or queen? If you have a large friends group, dress up in the same costume, and prepare yourself for your pictures to make rounds all over social media.
Whether you want to style yourself in a fun and whimsical way or go for a more realistic approach, trust us, there is a perfect pumpkin outfit for all!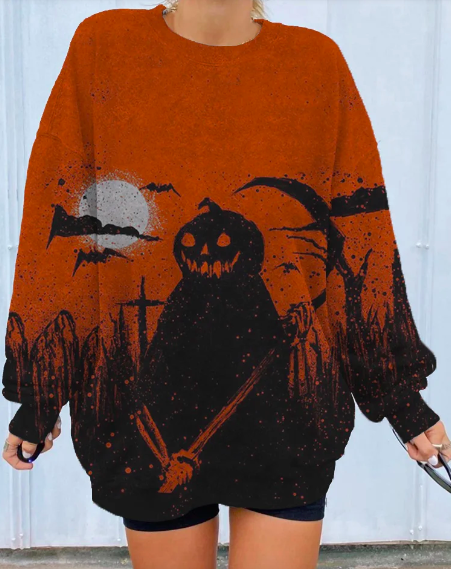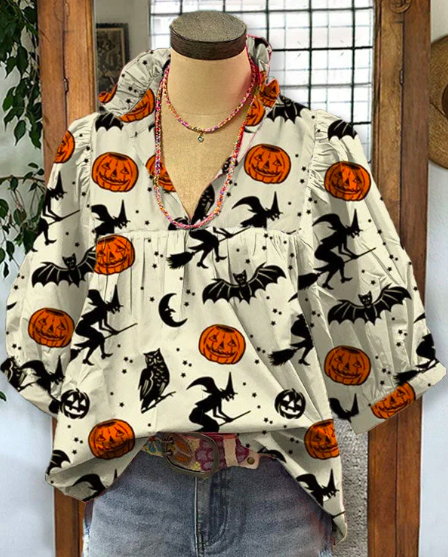 Ethereal and Spooky: Ghostly Ensembles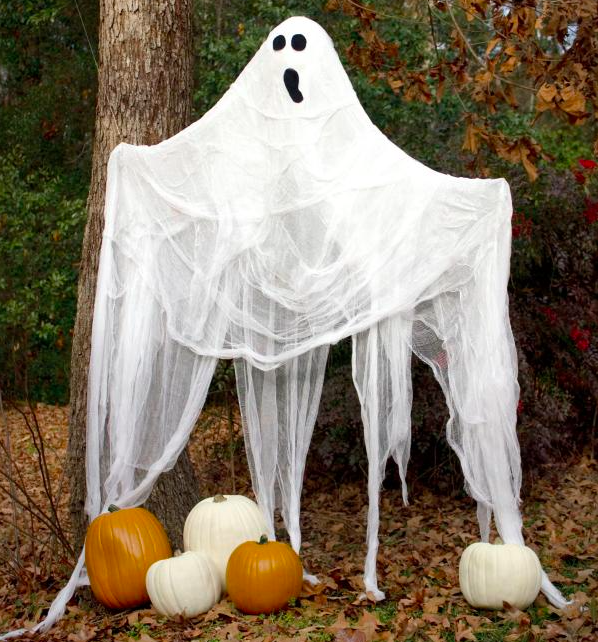 Ghost ensembles range from looking elegant to whimsically cute. It's because they are timeless Halloween costumes, and never fail to offer a sense of mystery. Not just this, you can easily showcase your level of creativity by shooing a spooky ensemble. As mentioned previously ghosts are mysterious and have always naturally drawn humans to explore more about them thus, the aura of this theme can not be explained through words. Another reason why you should go for a ghostly ensemble is because of how versatile they are. No matter what your age or style preference an ethereal outfit can surely work out well for you!
Several people get confused while doing makeup or accessorizing themselves with ghostly ensembles. If you're one of them, the next paragraph will have all your problems sorted!
To create a ghostly effect we suggest you apply two shades lighter to moisturized skin. Highlight the facial features you feel are necessary e.g. cheekbones, nose bridge, or your brow bone to make them pop out. For eyes, black and brown shades will do the job be it to enhance dark circles to give a natural effect or for hollow eyes. If you have contact lenses in gray or blue, no one can stop you from being the best dressed this Halloween. Another tip is to add a veil to your costume, to slay the day!
Hence, in conclusion, pale makeup, choosing a unique outfit from the available wide variety, and going for ethereal hair can help you achieve the ghostly look you desire.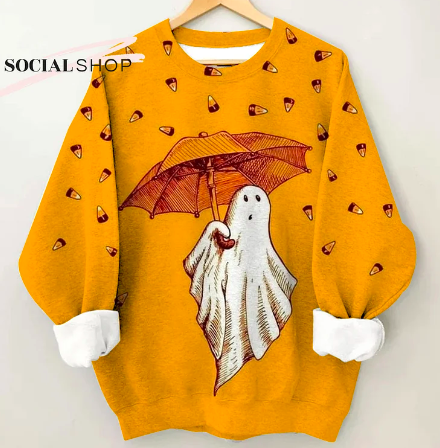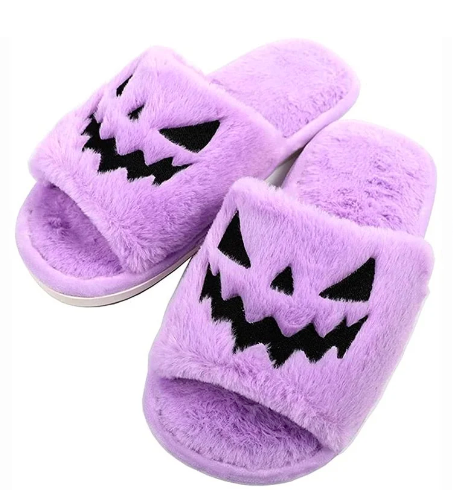 Wearing a T-shirt on occasion is always in fashion, it's all about how you style it! Every year, Halloween-themed T-shirts are launched by different stores. They come in a wide variety of patterns, and styles, and a few with a great sense of humor e.g. the ' Witch Please' T-shirt and 'I'm here for the boos' T-shirt were previously in trend. Thus, to cater to your sense of humor and catch the attention of people, a Halloween-themed T-shirt is a great option.
In addition, opting to wear a tee is the most comfy outfit you can opt for on any occasion, you can pair it up with your favorite pair of jeans and instantly be it the Halloween spirit. So, why not make them a popular option for people for both children and adults this year? It is truly a great option to effortlessly dress yourself the right way this Halloween!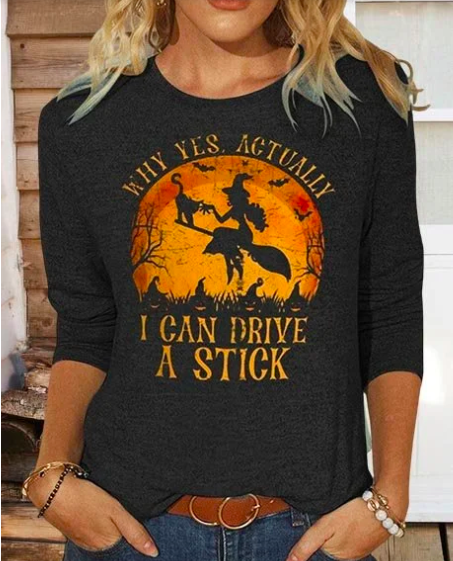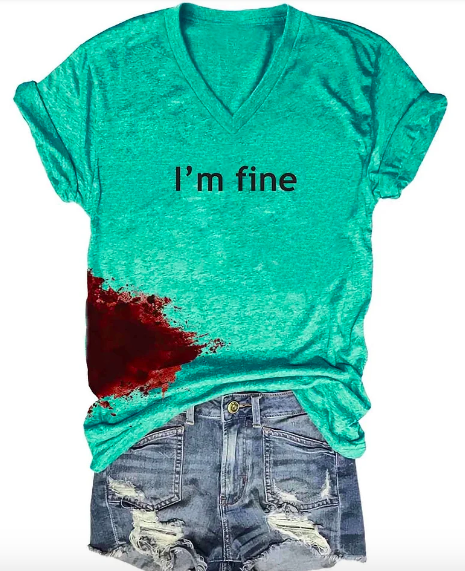 If you're a girl fond of wearing pretty dresses every holiday and occasion, you don't have to worry it's time to look all dressy this Halloween too! Just, remember that the key to enhancing a dress as a Halloween costume is the right detailing. You could go for a plain black dress or a fully patterned dress and could still slay it with the right accessories and jewelry. If you can manage to have props that complement your dress, or you could use them in pictures make sure to use them.
As the Halloween festival is about dark and moody colors, a gothic look could be everything you ever wanted to pull. Go for a dull-colored dress, with lace, and pair black gloves, and a choker necklace with it to make heads turn. If you think your dress has a witchy wife, you can surely pass the pointed black hat to enhance your overall look. This way you would be looking hauntingly gorgeous in a dress while following the witch aesthetic at the same time. All a girl would ever want for Halloween! However, if you have a multi-colored dress, or a patterned dress and are worried about styling it, don't forget the fact that dresses with patterns capture the spirit of the Day of the Dead. A flower crown, and skull makeup like the characters in the movie 'Coco' can make your day!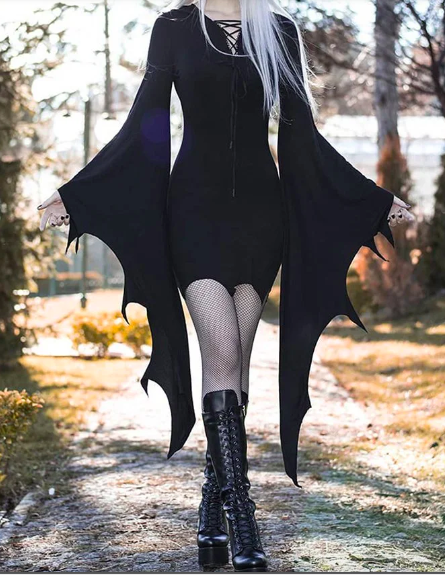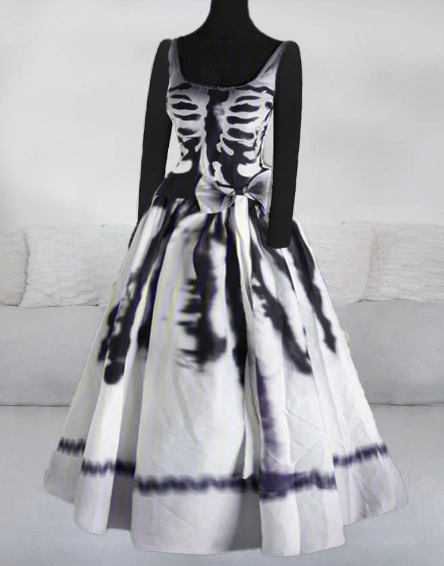 DIY Costume Elements: Adding a Personal
Halloween is the perfect occasion in which you can showcase your inner creativity by customizing every bit of your costume yourself. Be it a cute, spooky, or classic look, crafting props yourself, designing your dress yourself, and giving yourself the perfect makeover can make your Halloween extremely exciting, and fun. From crafting a witch broom or making zombie hacks you can make use of your creativity to craft props for yourself. However, there are specific guidelines you should keep in mind.
Choose materials that won't harm your skin.
Prioritize your safety over any other thing.
Make sure your costume is comfortable and is per the weather conditions.
This Halloween let your inner artist do the job! There is a versatile range of costumes and looks you can opt for so make sure to choose the right one. Happy Halloween Crafting!